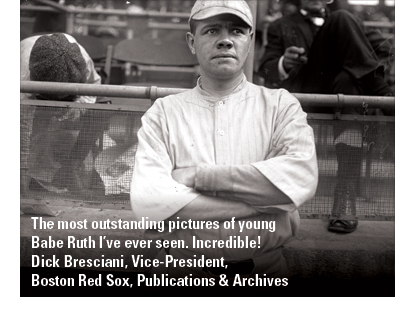 The 1915 Underwood & Underwood Boston Red Sox Original Glass Plate Negative Portraits: One of the Most Historically Significant Archives of Photography We Have Ever Offered!
Click here to view all 11 of these offerings.

Few baseball images are more mesmerizing than those of Babe Ruth as a young-gun pitcher with the Red Sox. There's just something so special about foretelling the hidden secret of Ruth's imminent slugging greatness. In 1915, his first full season on the mound, the 20-year-old Sultan of Svelte was simply a 6-foot-2, 215-pound ace hurler, earning a nominal $3,500, going 18-8 with a 2.44 ERA, and leading his fellow Beantowners to their second straight world championship. His teammates, his opponents, his fans, even Babe himself had no idea of the future to be—a home-run revolution, colossal moon shots, international fame and fortune, myriad endorsements, Hollywood films, legendary decadence and more. No one knew then what glory was yet to come. But we do.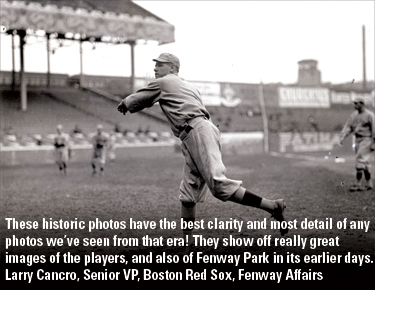 This breathtaking archive of 1915 Red Sox glass-plate negatives is highlighted by not just one but TWO rare Ruth images, along with fellow future Hall of Famers Tris Speaker and Harry Hooper, plus other members of the hallowed title squad. There's even a non-Boston cameo appearance by Ty Cobb! Every 4" x 5" negative is the fine handiwork of the prestigious Underwood & Underwood photography studio. Judging by the shared surroundings—most noticeably a young newsie-type lad on one side and a dapper gentleman on the other—all of the posed sideline portraits (including Ruth's) appear to have been taken on the same magical day within mere minutes of each other. At venerable FENWAY PARK, no less, which to this day of course reigns supreme as the oldest Major League stadium in use and the single greatest shrine of our national pastime. Last year marked Fenway's 100th anniversary, next year will bring the centennial of Ruth's arrival, and this very year the Green Monster plays host to yet another thrilling World Series. It is impossible to overstate the importance of Fenway. Commissioner Bart Giamiatti said it best: "As I grew up, I knew that as a building [Fenway Park] was on the level of Mount Olympus, the Pyramid at Giza, the nation's capitol, the czar's Winter Palace, and the Louvre—except, of course, that is better than all those inconsequential places." That Ruth should be forever frozen in time here in the mere third year of Fenway's existence is like bearing witness to later revolutionary American moments like Elvis's earliest days at Sun Records or Neil Armstrong's moonwalk. What's more, the setting for Babe's magnificent in-action pitching scene just so happens to be a game day against the Yankees at the Polo Grounds—hence, the home ballpark of his future franchise...before the House That He Built.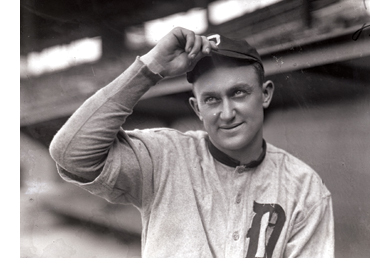 The entire collection of negatives was discovered together in an attic in 1988, having been entombed like King Tut's treasure for decade upon decade. Untouched, undocumented and unpublished, they remained carefully safeguarded in their intact original paper sleeves and had never before seen the light of day in our collecting hobby—let alone been offered for sale either privately or publicly. In the quarter century since their discovery, these iconic images have appeared in the Boston Public Library's elite gallery of historic Boston photography, and they have been examined and authenticated by the curators and historians of the Baseball Hall of Fame, the Sports Museum of New England, the Babe Ruth Estate, and the Boston Red Sox. Hobbyists may remember the Ruth rookie portrait from an exhibition at the 2005 National Sports Collectors Convention in honor of Boston's 2004 World Series victory—which broke the infamous "Curse of the Bambino." Also that year, the Museum of Fine Arts in Boston requested a special large-format portrait print to be displayed alongside Norman Rockwell's painting, "The Rookie," where it remained throughout the Rockwell exhibit's run. Hence, that distinguished, widely celebrated MFA print was developed from the very glass-plate negative featured in this auction. And images from the one-of-a-kind negatives also received praise on Fox News and in The Boston Globe.
Click here to view all 11 of these offerings.
As advanced photo enthusiasts are well aware, it is unusual to find 98-year-old glass-plate negatives unharmed; but it is extraordinary to find them in almost perfect condition, still residing in their original sleeves. The outstanding clarity, contrast and level of detail—from the dirt in Ruth's cleats to the missing buttons and tobacco stains on his teammates' uniforms—must be seen first-hand to be believed. Only mild signs of emulsion oxidation and occasional minor nicks and abrasions are present, with extremely minimal impact (if any at all) to the figures themselves. All display an EX/MT to NM appearance overall with typical light perimeter wear unless noted. A modern 5" x 7" print is included with each, thus giving a hint of the spectacular possibilities inherent in such a trove of negatives, which (with but the most minor digital touch-ups) could be enlarged to their full glory of grandiose dimensions and pristine condition without sacrificing virtually any image quality whatsoever.
Photo collectors, Red Sox collectors, Yankees collectors and, above all, Ruth collectors can rejoice at the fresh sight of this miraculous, never-before-offered, truly "legendary" archive of historic glass-plate negatives—one of the ultimate seminal tributes to the humble beginnings of Babe's meteoric rise.