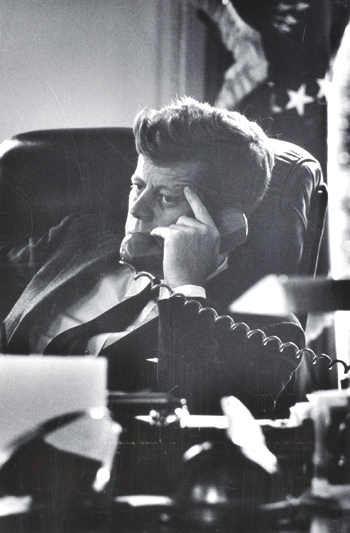 The Arthur Rickerby John F. Kennedy Photography Collection
The great Arthur Rickerby started out in sports photography for Acme and United Press International, gaining renown with his famous shots of Don Larsen's 1956 World Series perfecto. He joined the elite ranks of LIFE Magazine in 1960 and enjoyed extraordinary access to the Kennedy family throughout their White House yearsÑeven riding in the motorcade behind the President on that fateful Dallas day. Before his death in 1972, Rickerby also created a popular series of full-color photo galleries on sports topics including Willie Mays' twilight years with the Mets.
During the late 1980s, a significant Rickerby exhibition was held at the Aetna Institute and History in Hartford, CT, introducing the public to a trove of photos, black-and-white negatives, and 35mm color slides. Many of the images had not been seen since their original publication dates as much as 40 years prior. In a 1986 New York Times interview, Arthur's husband Wanda said, "When he died at the age of 51, one of his friends commented that Arthur had packed five lifetimes into one. He had seen the most remote corners of the world and some of the most important people...The story always came first for Arthur, and he was tireless and exacting."
Mrs. Rickerby also described her husband as an innovative early adopter of 35-millimeter camera technology who in 1956 convinced United Press International executive picture editor Harold Blumenfeld to allow him to use a 35mm camera instead of the then-ubiquitous Speed Graphic cameras. "Although the Speed Graphic had wonderful clarity and depth of focus," she recounted, "there were interchangeable lenses, and you couldn't move and get action pictures...In those days, you were supposed to sit in the press box and make a picture, but [Arthur] prowled around...When he saw it was going to be the first perfect World Series game, pitched by Don Larsen, he was ready on the sidelines."
Thus, 35mm slides such as those presented here were part and parcel of Arthur Rickerby's grand legacy of cutting-edge photography. We cannot overstate the historic nature and sheer beauty of this extraordinary cache of color slides and oversized photos.

35mm Color Slides
These unique slides run the gamut from intimate moments to public events, from little-known photos to iconic classics, from close-up head shots to vast scenescapes. With cameos by Jackie Kennedy, Caroline Kennedy, Robert F. Kennedy and Lyndon B. Johnson, the color slides span Kennedy's historic 1961 "Ask Not" inauguration all the way through his 1963 funeral ceremony, while also covering two foreign trips and some amazing private moments with RFK. Each slide measures 2" x 2" and carries an ID number on the border. The wide majority also exhibit an imprinted record of the month and year. Occasional examples also directly reference Rickerby, and there are a few explicitly acknowledging publication by LIFE Magazine. Overall condition is Near Mint and the categories are as follows: Inauguration (January 1961); South America Trip ("DEC 1961"); India Trip ("MAR 62"); White House ("APR 62"); Final Month of Presidency ("SEP 63"); and JFK Funeral ("NOV 63").

Oversized Photos
These large and dramatic Rickerby prints were displayed as part of a retrospective exhibition in 1989 following the aforementioned showcase at Hartford's Aetna Institute and History. They demonstrate beautiful Near Mint condition, are adhered to their backing boards, and remain housed in their original matted frames. Each piece's description label from the exhibition is included.