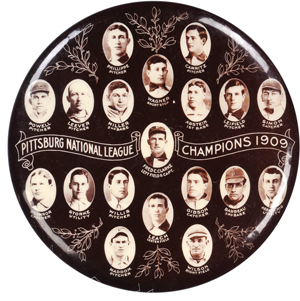 BASEBALL IN PITTSBURGH – A HISTORICAL PERSPECTIVE
Legendary Auctions is proud to introduce what is, we believe, the most significant holding of early Pittsburgh baseball team collectibles to ever be offered publicly in our hobby. This extraordinary homage to those Steel City teams of yore was put together over the last 30-plus years by a passionate and discerning collector, whose taste for the rarest and most desirable pieces has culminated in what is truly a museum-worthy assemblage. There is a nice selection of one-of-a-kind rarities in the mix, as well as many other pieces where only a few examples have ever been seen. The collection will be sold over two days, with day one featuring the earliest pieces from the 1870s-1900s, and day two focusing on the 1910s-1920s time period.
Professional baseball in Pittsburgh began in 1876, and the independent organizations back then consisted mostly of barnstorming teams that traveled throughout the countryside, playing games wherever they could be found. In 1882 the American Association was founded, with Pittsburgh being among the founding members. In 1887 the team switched from the A.A. to the National League, and renamed itself the "Alleghenys." In 1912 the team officially adopted the "Pirates" nickname, which has remained to this day.
Woven through the fabric of this amazing collection are Pittsburgh's 1903 inaugural World Series team, the 1909 and 1925 world championship teams, the emergence and eventual stardom of the incomparable Honus Wagner, the opening of venerable Forbes Field, and numerous other pivotal events in the Bucs' storied history. Included in this impressive aggregation are ultra-rare panoramic team photos, striking player photographic images, scarce tickets and scorecards, wonderful postcards and pinback buttons, as well as many other items of interest.
With the re-emergence of the Pirates to postseason play in 2013 after 20 frustrating losing seasons, the future looks much brighter to the legions of passionate fans and collectors—many of whom still remember those exciting days of Clemente, Mazeroski and Stargell, while still retaining a fascination in Wagner, Clarke, the Waner brothers and other players from the franchise's earlier days. Here are the timeless treasures of the Golden Age of Pittsburgh baseball in all their glory and splendor.
This incredible collection spans lots 906–953 (closing Wednesday, November 20) and 965–1012 (closing Thursday, November 21).